About Us
The Saraswati School of Music (SSM) is an online music learning Platform for all who have passion of music. You can learn Indian Classical Vocal, Electronic Keyboard, Acoustic Guitar, Piano and Violin.
             We are running face to face (offline) music classes also from 2002 in Lucknow, UP. India. As we progress into an era of digitisation, the virtual world has evolved into our life, which continues to bridge geographical and spatial barriers. We are not a traditional school offering online classes, we are a 100% online Music school in India. We are building the future of music education in world and your child deserves to be an active participant in this journey!
            The classes are conducted live Individual/Group lessons on zoom platform. We also coach students for Music Grade Exams for Electronic keyboard, Acoustic Guitar and Piano conducted by Trinity College of Music. Also prepare the syllabus of all popular music universities of India for hi Music Degree/diploma.
Anytime & Anywhere via Online
The husband wife duo of Rishi Kant Shukla and Richa Shukla started SSM Online for online music teaching. We know that A teacher instructs, but a Guru constructs, So we have gurus with us who would construct a musician and strong personality in you.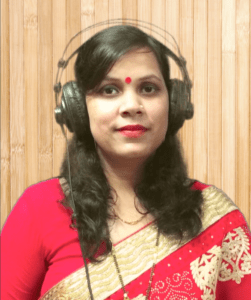 Mrs. Richa Shukla is Indian classical Vocalist and has been a music teacher from last 10 years.  She was complete her Masters in Hindustani Vocal from Bhatkhande Deemed music University in 2008. And also completed NET.
Watch the Free Vocal Lessons on YouTube
          Mr. Rishi Kant Shukla is a Keyboard player and has been a music teacher from the last 20 years. He passed many grade exams in various instrument from Trinity college London and also a certified teacher from Trinity College. He also done Sangeet Vishaard in Indian Classical Vocal from Indira Kala Sangeet Vishwavidyalaya. "Award of Junior Fellowship" from CCRT (Ministry of Culture of India) in 2018 and convert the famous raag of Indian classical music to Staff notation.
Watch the Free Keyboard/Guitar Lessons on YouTube